Kids' Choice Awards 2011: Watch on Nick.com!
Posted on Mar 28, 2011 by KCA Kid
With The Kids' Choice Awards allllmost here, we can't wait to share everything we've got planned on Nick.com! So here's a little sneak peek at what you can expect to see right on the Nick.com homepage April 2 at 7pm.
Head to Nick.com at 7pm EST this Saturday, for the Countdown to the KCAs LIVE -- hosted by the hilarious Jeff Sutphen, Victorious' Daniella Monet and iCarly's Noah Munck. Catch celeb interviews, watch a live performance by Victoria Justice, and get exclusive access to the Orange Carpet right here! Consider this your VIP pass for the night!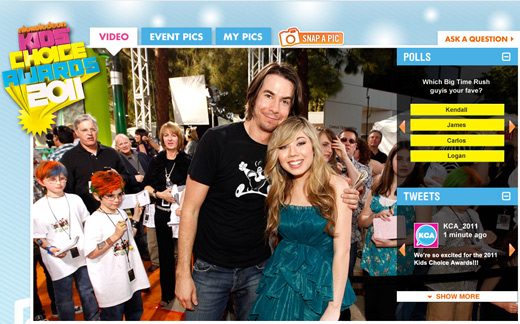 **Orange Carpet Mania!**
With cameras from every angle, you'll feel like you're standing next to your favorite celebs like Miranda Cosgrove and Big Time Rush!
Here's what you'll see on Nick.com:
* Watch LIVE hosted video right from the Orange Carpet
* Check up on the latest celeb tweets
* Take polls galore
* Ask the stars YOUR questions
* Hit the "Snap a Pic" button to save photos
* Flip through a mega photo stream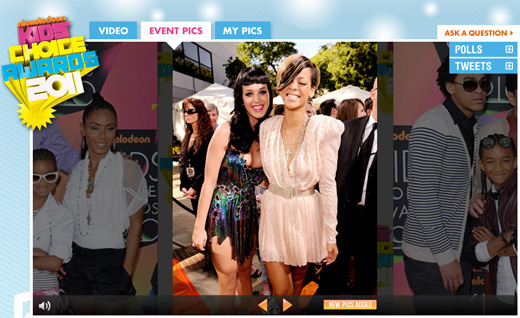 **Kids' Choice Begins**
Once the big show starts, don't even think about shutting down 'cause the online action continues with TONS of exclusive content!
Get even more access online:
* Go backstage with Jeff where he'll interview the winners
* Get access to the Slime Pit and the gooey green action
* Watch interviews with celebrities in the audience
* Play a live polling game (predict the winners for points!)
* Check of the moment updates
* See more celeb tweets & pics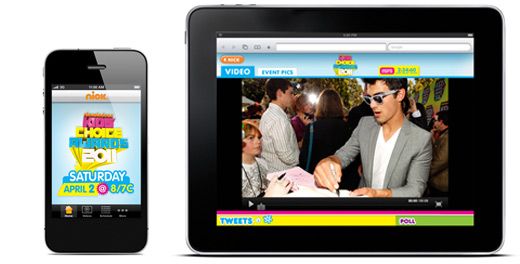 Watch the KCA online experience on your tablet and mobile device too! Just head to Nick.com on your tablet & you'll be able to stream live video, see celeb tweets, take polls, & more!
Whew! But that's not even ALL! After Jack Black says goodnight, hang out on Nick.com for OMG clips, photos, blogs, speeches, performances, quizzes and MORE! See you on Nick.com on April 2!
Watch live on Nick.com!

Get a VIP glimpse of the ENTIRE Orange Carpet pre-show and backstage behind-the-scenes this Saturday! Check it out.