Posted on Mar 22, 2011 by KCA Kutie
KCA nominee Miley Cyrus has been turning heads since she stepped into this world, but when this Hanna Montana starlet hits the red carpet, she turns it out. We mean, she always looks stylish! Check out our favorite looks that Miley has worn in the past few years.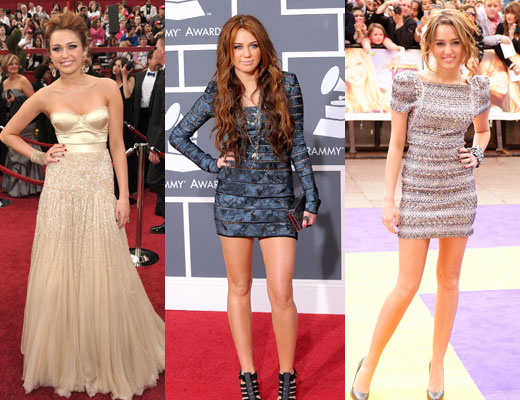 -Miley sparkled and shined at the 82nd annual Academy Awards. She had the honor of presenting an award that night, but with this elegant gown, she looks chic enough to have been nominated! Someday, Miley!
-When stars go to the Grammys, they leave their long, flowy dresses at home and we're so glad Miley picked this edgy dress with ankle-hugging stilettos to showcase her rock star edge!
-When you're lucky (and talented) enough to have your own movie out in theatres, you better dress to impress at the premiere. And that's exactly what Miley did for the LA premiere of Hanna Montana: The Movie! Check out the shoulder detail on this sparkly number!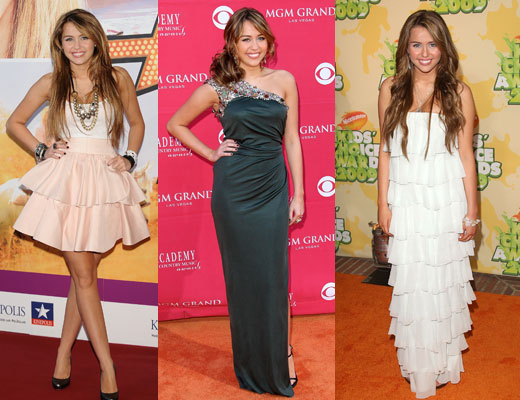 -So if you've already gone for the gold at the American premiere of your movie, what's a girl to do when it premieres in Spain?! At the Madrid premiere of
Hannah Montana: The Movie
, Miley wore this uber-girly pink skirt and we swooned.
-A very different look for Miss Miley, she donned a long, slinky one-shoulder dress for the 2009 Country Music Awards. Don't worry -- it's not a snore-bore up close: it's got some serious bling on the shoulder!
-For the 2009 Kids' Choice Awards, Miley wore what some people might call a bridal gown, but we call an effortlessly chic white tiered dress. Work it, girl!
Which of Miley's looks do you like best? Tell us in the comments! And don't forget to Vote Miley Cyrus for the KCA!