Russell Brand and Rico Rodriguez Present Favorite Voice From an Animated Movieorite Female Athleteavorite Movie Actor Award
Posted on Apr 02, 2011 by KCA Kid
Russell Brand is outrageously funny, but when you pair him with precocious Modern Family star Rico Rodriguez, hilarity ensues. Talk about a mismatched pair! Russell is about a foot taller than Rico! These two had the honor of presenting the highly competitive Kids' Choice Award for Favorite Voice From an Animated Movie, and boy, did they have their work cut out for them!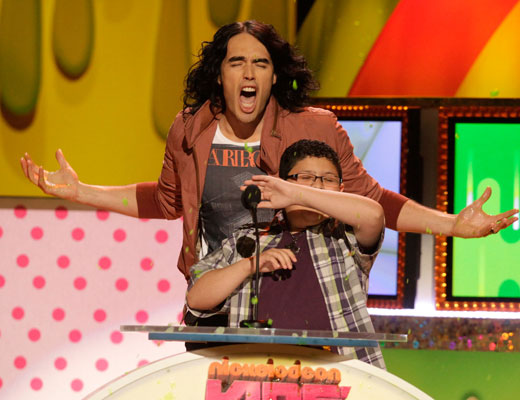 The kids who had been slimed by Johnny Depp minutes earlier, decided to slime Russell and Rico real bad! They could barely speak during the sliming!
But anyway, the nominees for Favorite Voice From an Animated Movie included Tim Allen, Cameron Diaz, Tom Hanks, and Eddie Murphy -- so they're all newbies to the biz -- just kidding! These nominees know what it's like to take home awards, but only one of them got to take home a blimp tonight. And the winner was... Eddie Murphy! And it just so happened to be his birthday! What a great present!
We're so proud of Eddie for winning in this category for playing Donkey in Shrek Forever After. After all, it is the last Shrek movie in the franchise! Ugh -- we hope they change their minds and make more someday!