Trend Spotting at the KCAs
Posted on Apr 02, 2012 by Brittany H.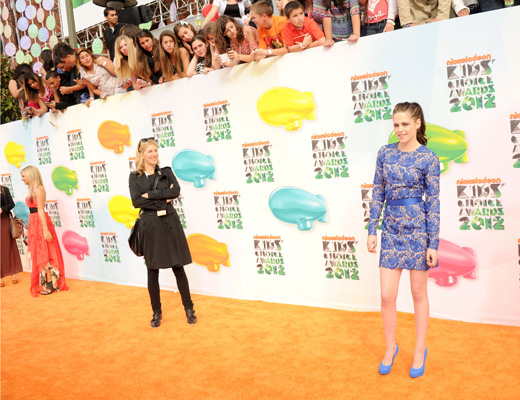 The KCA 2012 Orange Carpet was crawling with stylish stars this Saturday -- well technically, it was walking with stylish stars, but you know, it's an expression. And we noticed a few themes amongst these celeb threads. Look out for these new fashion trends, people! 'Cause they were all the rage last Saturday night.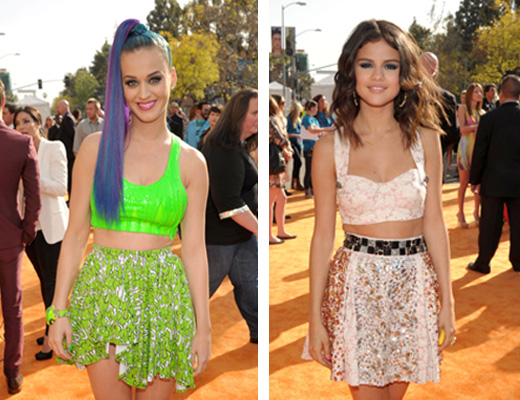 Crop Tops
First of all, the most eye-grabbing gear of the night had to belong to "Part Of Me" performer Katy Perry and Favorite TV Actress Selena Gomez, who conquered the Carpet in crop tops that made us forget what "winter" means. What is a winter? Someone who wints? Anyone? Who cares! With these adorable outfits in the world, every day is summer.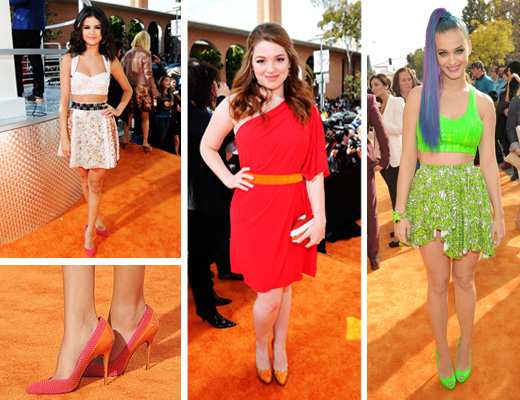 Repping Nick
But would Katy Perry stop at rocking just one Orange Carpet trend? No way! She also led the pack in one of the night's coolest crazes: repping Nickelodeon! Her slimy skirt and goo-green blouse said, "hit me with your best shot, slime cannons!" It really warmed our hearts. Also lavishing love on Nickelodeon, were Favorite TV Sidekick nominee Jennifer Stone who tied her red dress off with an orange belt and matched it with Carpet-colored heels. And guess what, crop-top sporting Selena Gomez rocked this trend too, throwing Nick a wink in her bright orange shoes.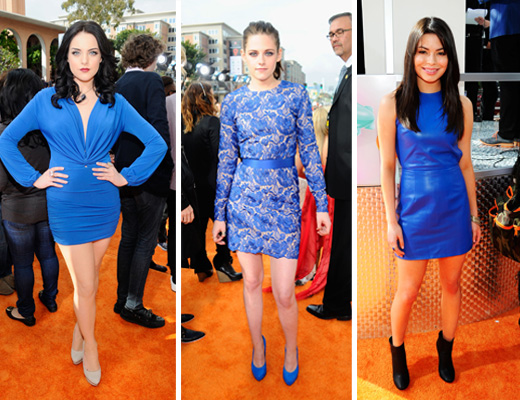 Electric Blues
By far the biggest and most visible trend of the night was electric blue! Did you know that electric blue is orange's exact opposite on the color wheel? Well, opposites attract! Leading the electric pack was iCarly queen Miranda Cosgrove, who toughened up the trend in a leather mini. Liz Gillies followed close behind in an old Hollywood head-turner. We also spied Favorite Movie Actress Kristen Stewart sparkling in brilliant blue.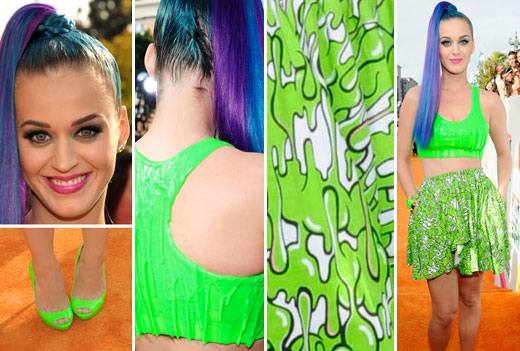 And there's one style star that is so fashion forward, she managed to rock all three looks at once! Yes, we're talking about KATY PERRY! This fashion force hit every big trend of KCA 2012 right on the perfect nose. Way to go Katy. You rule!